Miamisburg Outdoor Signs
VIEW GALLERY
Your outdoor signs are the best way potential customers and clients learn about your business. By having effective, eye-catching brand building and promotional outdoor signage custom crafted by your local Miamisburg sign company, Sign Connection, you are sure to make a significant impact!
Whatever your exterior signage need, we can create it! Sign Connection designs, fabricates, and installs all types of outdoor signs, including vehicle wraps, yard signs, outdoor vinyl banners, portable signage, window displays, storefront signs, and more. From single signage elements to full signage collections, you can rest assured that your signage will increase customer flow and build your brand.
We work within your brand guidelines, utilizing your logos, fonts, and colors throughout all of your signage elements. This creates a consistency that not only reinforces your brand but helps to cement the professionalism your customers can come to expect from you. If you are looking for a storefront sign that reflects the uniqueness of your brand and business, Sign Connection is the right signage partner for you!
Call Sign Connection at (937) 203-4481 for a Free Consultation with an Outdoor Sign Specialist!
Storefront & Building Signs
Choosing a branded storefront sign that lets your customers know you are ready to assist them can be very challenging. There are many exterior sign options to choose from and just as many considerations that need to be made, such as style, placement, and size.
With various options available for business storefront signs, working with a professional sign company is essential to getting the right sign. Sign Connection understands that not every business has the same needs, so our knowledgeable consultants discuss your brand personality, location, and budget to ensure we are making appropriate recommendations that fit your needs, with a focus on durability and longevity.
We are committed to delivering solutions tailored to your Miamisburg business, so we consider your physical location, neighboring businesses, and how traffic flows around your business to recommend the right type of signs that will help you capitalize on missed opportunities.
Channel Letters & Dimensional Letters
Channel letters and dimensional letters have become a popular choice across all industries. These signs are highly-customizable and provide an attractive finish that feels more like an extension of your storefront rather than an addition. You can add your logo, symbols, numbers, and letters to your building facade with eye-catching dimensional letters or channel letters!
These attractive signs are entirely tailored to your business and brand, allowing you to control everything from the text itself to colors, fonts, and placement. We will provide expert recommendations for you at every step of the sign making process to ensure you will have an effective sign that your potential customers can't resist.
Channel letters are ideal for all business types and locations and are an extremely versatile and highly-customizable solution for any brand.
Lighted Signs
Not all businesses operate only when it is bright and sunny out. If you are looking to attract customers at all times and in all conditions, then lighted signs are a great choice for your building.
Sign Connection offers many lighted sign options, including illuminated channel letters, backlit dimensional letters, digital displays and message boards, cabinet signs, and more. If you've always wanted a retro neon sign, but want a solution that not only lasts longer but also is more environmentally sustainable and wally-friendly, Sign Connection has your solution! LED signs can mimic the look and feel of neon at a fraction of the cost and maintenance required, while also consuming far less power to operate and produces less waste.
Lighted signs are ideal for drawing customers to gas stations, retail businesses, convenience stores, restaurants, comedy clubs, bars, nightclubs, theaters, and more.
Custom Sign Panels
Side panels can be fabricated from a wide variety of materials and in a variety of ways. These signs are a solid panel that is affixed directly to your storefront and can contain as little or as much information as you wish and can easily be designed with full-colored designs and impressive images. Not only inexpensive to produce but also incredibly versatile, these signs have gained popularity across all industries.
Sign panels may be crafted from cut vinyl affixed to a metal plate, or can include a lightbox with an acrylic panel and translucent printing. Our knowledgeable consultants will help you determine the design and style that best fits your business based on your location, brand, budget, and visibility needs. From full storefront panels to small door plaques, we will craft the perfect sign panel for your unique business.
Sign Panels are popular for small businesses, manufacturing plants, auto repair and service centers, and other businesses looking for a functional, highly-customizable storefront sign.
Canopy & Awning Signs
Canopy signs are an attractive, unique option that allows you to display your business name and brand while also protecting your storefront and guests from the elements.
An awning sign may be crafted using many different materials, but is often created using a stretched canvas that provides an overhang to the entrance or windows of your business. These signs often have your business information printed directly onto the canvas, displaying your logo, business name, or other branding message.
Canopy signs are often chosen due to the boutique feel that they offer, and are popular for shopping centers, hotels, galleries, specialty shops, jewelry stores, and salons that desire (or require) uniformity.
Monument Signs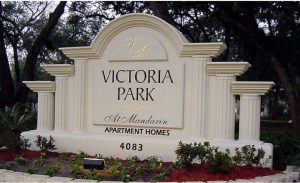 Are you looking for an eye-catching, impressive sign for the entrance to your business or organization? Our durable monument signs are the perfect option for anyone looking to make the right first impression to first-time visitors to their facility. Monument signs are large, permanent structures that are often made from durable material that can be etched or fitted with panels or lettering that proudly display your business name, address, or other pertinent information.
Monument signs may be crafted from solid materials or include digital message boards or lighting, allowing us to craft the ideal monument sign to fit your brand personality, location, and desires. Whether you have always wanted a statuesque marble sign or a funky sandblasted sign, Sign Connection will create it!
Monument signs typically adorn the main entrance to resorts, private clubs, churches, schools and universities, government buildings, manufacturing plants, and corporate offices.
Pole Signs & Pylon Signs
Do you want to increase your visibility and attract customer from a greater distance? Tenant signs, pylon signs, and pole signs are a popular option for increasing business visibility and reinforcing your brand name.
These signs soar into the sky and are typically used to reach a wider audience for buildings or businesses are situated near a major roadway or interstate or lack road frontage. With various options for height, size, and display types, we have the perfect option for you!
Pole signs are the ultimate in business visibility, drawing attention to supermarkets, gas stations, shopping centers, fast food, and businesses that are not easily seen from the road.
Complete Exterior Signage Provider
Every business and brand can benefit from the increased visibility outdoor signage provides. Not only will your Miamisburg exterior signs increase business visibility, they also help manage your customer's perception. Whether you need impactful signage to highlight popular products, brand identification, or let potential customers know that you exist, Sign Connection will craft the perfect custom signs to support your business goals.
We manufacture every type of exterior signs you could imagine, including wind signs, blade signs, custom window signs, vehicle wraps, a-frames, flag signs, post and panel signs, yard signs, real estate signs, and any other business signs you could ever need.
Looking for cohesive indoor signs? We do that, too! Whatever your need, Sign Connection has you covered!
Our other exterior signs include:
Can't find the sign you're looking for? This list is only an example of the wide variety of exterior signs we can create. We have the skills, resources, and experience needed to create virtually any type of signage you could ever need! Our knowledgeable consultants and project manager are eager to discuss your signage ideas.
Full-Service Exterior Sign Company
Sign Connection is your dedicated provider of Miamisburg outdoor signage for every business need. We offer a large selection of exterior signs and include you in every aspect of the sign creation process, including design, fabrication, and installation. If you already have some signage, we can utilize your existing brand guidelines for consistency, or our talented graphic designers can create an entirely new signage plan for your business.

You don't need to be a graphic designer or have one on staff to work with us. As a full-service sign shop, we offer complete design services, creating the right file type in the right size for quick printing on our sign equipment. We assist with the design of storefront signage, real estate signs, lighted exterior signs, outdoor banners, or any other commercial signage elements you may need. Our talented team of experienced graphic designers specializes in taking your vision and creating function signage for any need or goal.
Our sign production facility, located right here in Miamisburg, ensures that all elements of your signage project are correctly manufactured and match your approved proof, as well as sourcing any necessary elements required for installation. If you sign requires permitting, we will also begin that process for you at this time.
We also have a full staff of experienced sign installers, ready and eager to give your project the polished finish that you've always wanted. We understand that the longevity of your sign can be significantly impacted by the quality of your sign's installation, and we are committed to ensuring your signage is secured correctly, works with your space, and will stay in place for years to come.
Free Outdoor Sign Consultation
Sign Connection custom crafts attractive, compelling outdoor signs for Miamisburg, OH business promotion, visibility, and identification. We focus on creating high-quality, eye-catching signage the supports your goals of customer attraction and brand recognition.
We look forward to discussing your signage goals and providing unrivaled customer assistance. When you need a reliable signage partner, Sign Connection is the right choice.
Call Sign Connection at (937) 203-4481 for a Free Consultation with an Exterior Sign Specialist!